Find Relief with Root Canal Therapy, Completed in Just One Visit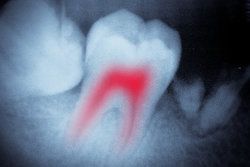 Decay and injury to a tooth, including fracture, can expose its soft, inner pulp to bacteria and lead to infection. When the tissue within your roots becomes infected or inflamed, the condition can cause extreme discomfort and necessitates immediate care. Fortunately, our doctors offer nearly painless, efficient root canal therapy at our Birmingham practice. Root canal therapy clears infection and protects the weakened tooth with a dental crown. Dr. Gooch can provide root canal therapy and place a permanent, custom-fitted crown in just a single visit. In addition, he is committed to ensuring our patients' comfort and offers gentle care combined with sedation options. Do not delay seeking care - contact us today to schedule an appointment.
The Root Canal: a Closer Look
Root canal therapy, often simply referred to as "a root canal," is the treatment and removal of inflamed or infected pulp within the roots of an affected tooth. The roots are the hollow canals that house soft tissue, containing blood, vessels, and nerves, which supply nutrients to the tooth. When this tissue becomes infected, it compromises your comfort, the health of your tooth, and your overall oral health. Left untreated, your tooth may abscess or the infection may spread to your surrounding tissue and even your jawbone.
What Can I Expect?
During root canal therapy, Dr. Gooch removes the unhealthy pulp and repairs the tooth. At the beginning of your appointment, Dr. Gooch will numb your tooth and the surrounding tissue. He will use special tools to make a small hole in your tooth. Then, he will clean out the infected pulp and smooth your tooth's interior surfaces. To complete the procedure, Dr. Gooch will fill the tooth with a rubbery substance and place a custom-fitted crown to restore your tooth's appearance and function.
Because Dr. Gooch is committed to using advanced technology at the practice, he is proud to offer same-day crowns. While he is performing your root canal therapy, your custom-fitted crown will be created with the aid of our on-site CEREC® milling machine.
Common Symptoms
If your tooth is infected or the pulp is inflamed, you are likely an excellent candidate for a root canal. Common symptoms that point to the need for root canal treatment include:
A pimple or sore on the side of your mouth or gum that drains, or heals and returns
Pain and sensitivity during chewing
Generalized pain or an aching sensation
New sensitivity to heat and cold
The neighboring gum tissue is swollen or red
A large cavity, or broken or fractured tooth
If you are experiencing one or more of these symptoms, make an appointment immediately to preserve your overall oral health. Dr. Gooch can use x-rays and other methods to quickly determine the cause of your discomfort.
Schedule an Appointment
Dr. Gooch is committed to providing patients with a painless, comfortable root canal procedure. We offer efficient, streamlined care and can restore your tooth in a single visit. Contact us today to set up an appointment with Dr. Gooch.