Full Mouth Reconstruction Recovery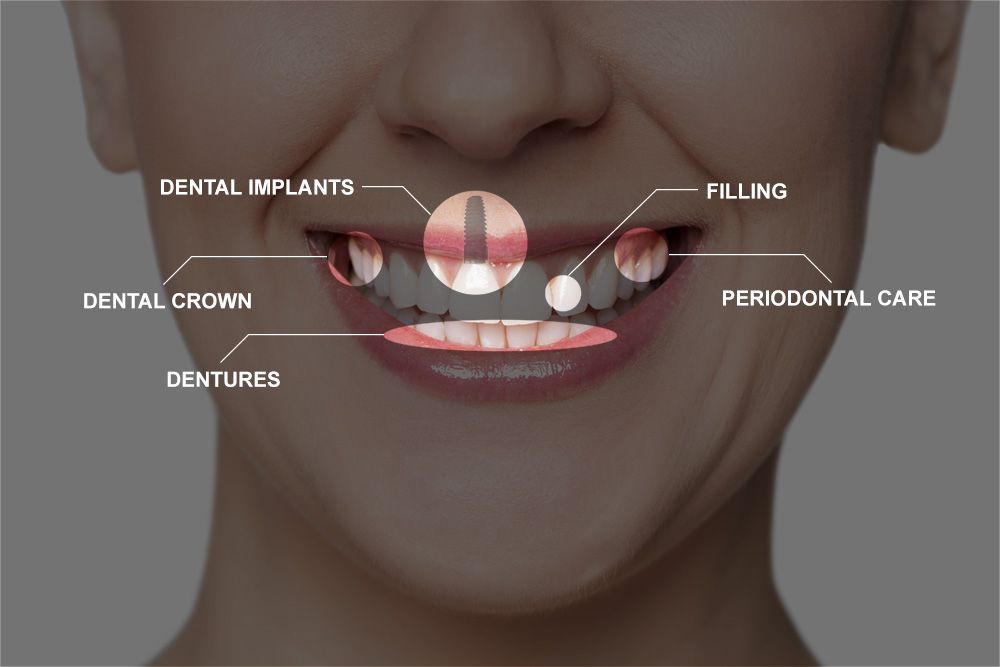 Patients with several ongoing dental issues can improve their oral health and quality of life with full mouth reconstruction at our Birmingham, AL practice. This comprehensive treatment combines two or more procedures in restorative dentistry to repair damaged, decayed, or missing teeth.
Today, our team at Gooch Family Dental explores full mouth reconstruction recovery so our patients can know what to expect when they undergo this treatment.
Because full mouth reconstruction is catered to the individuals needs of each patient, no two treatment plans will be the same. Therefore, your recovery timeline will largely depend on the type of procedures necessary for your case.
In the sections below, we will discuss some of the most common restorative and oral surgery procedures offered at our practice and provide a general timeline for each.
Dental Fillings
Used to repair mild damage and small cavities, dental fillings can be placed in a single office visit. In most cases, patients may experience slight gum sensitivity immediately following the procedure. However, normal routines can be resumed as soon as you leave the office.
Crowns and Bridges
Larger cavities and more extensive dental damage may require a dental crown. This restoration covers the entire surface of a tooth and provides reinforcement and strength.
Most patients experience heightened temperature or pressure sensitivity for a few days after crown placement. However, these symptoms are short-lived, and can be mitigated with over-the-counter pain relievers.
Bridges are used to replace a row of missing teeth. These restorations have two dental crowns on either end and artificial teeth in between them. The recovery period for bridges is quite similar to that of crowns. Normal activities can be resumed immediately.
Traditionally, crowns and bridges require two office visits: one to prepare the teeth and one to place the final restoration. At our practice, we can provide same-day restorations for qualifying patients with CEREC® technology.
Dentures
Patients receiving dentures will first require impressions of their teeth. These molds will be sent to a dental lab for fabrication, a process that typically takes about two weeks. Once the prosthesis is complete, we will schedule your appointment at our office for placement.
Oral Surgery Procedures
We offer a number of oral surgery procedures at our practice. These treatments typically require a bit more recovery time compared to restorative procedures such as fillings, crowns, or bridges.
Extractions
Patients who undergo an extraction can expect the initial healing period to last about one week. For the first few days, you will be asked to avoid strenuous exercise, drinking through a straw, and eating hard or crunchy foods.
On the third or fourth day, patients can resume normal activity within their comfort level. If you are having a tooth extracted before dental implant placement, a few months of healing are required before moving forward with treatment.
Bone Grafts
Whenever patients are deficient in bone density, a bone grafting procedure can be performed. This can widen the jawbone ridge and help patients become eligible for dental implants.
Most patients will be comfortable after the first few days of recovery. However, a few months of healing will be necessary before implants can be placed.
Dental Implants
Once dental implants are placed, they must have sufficient time to fuse to the bone tissue. This process, called osseointegration, can take about three to nine months on average. Healing time will be dependent on the extensiveness of the surgery and the body's healing capacity.
As you can see, your recovery timeline can vary significantly depending on what procedures are required. For example, a patient having three fillings and a crown placed will be able to complete treatment in about two weeks. In contrast, someone receiving an implant-supported denture may be looking at several months of healing time.
Contact Our Practice to Learn More
If you are self-conscious about the appearance of your teeth, full mouth reconstruction can restore your smile to its original brilliance. To learn more, contact us online or call us at (205) 545-8001.
Related to This