Candidates for Mouth Guard: Athletes, Tooth Grinders, TMJ Sufferers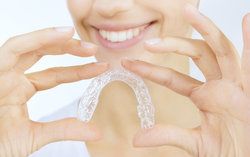 The team here at Dr. Burton Gooch Family & Cosmetic Dentistry believes that every patient in the greater Birmingham should be able to smile with confidence. That's why we offer the latest in general, cosmetic, and restorative dentistry treatments to improve overall dental health and wellness. We also stress prevention and good hygiene as keys to a healthy smile.
One aspect of preventative care that many people do not consider is the use of mouth guards. Let's go over mouth guards in basic terms so you understand how they can be helpful to you.
What is a mouth guard?
In basic terms, a mouth guard is a protective retainer that is worn to reduce the stress and damage to the teeth and other parts of the mouth. Mouth guards can reduce the likelihood of chips and cracks to the teeth and can also preserve the health and wellness of your jaw joint and other parts of your mouth.
Mouth Guards for Contact and Combat Sports
One of the most common uses for mouth guards is to protect athletes who play combat or contact sports. The mouth guard is worn during competitions and practice in order to prevent serious injuries of various kinds.
Some of the most common sports in which mouth guards would prove helpful include the following:
Football
Hockey
Rugby
Lacrosse
Boxing
Amateur wrestling
Tournament martial arts
Mixed martial arts (MMA)
Custom Mouth Guards Can Make a Major Difference for Athletes
While stock mouth guards are available at sporting goods stores, custom mouth guards can be designed as needed. There's a major difference in comfort with custom mouth guards which can make a major difference in terms of athletic performance.
If anything, a little less distraction when it comes to discomfort of a mouth guard will prove helpful for bringing out the best in your overall game, whether you're a pro, a weekend warrior, or a teen in high school athletics. Be sure to discuss custom mouth guards with your dentist if you are interested in having one crafted.
Mouth Guards for Bruxism (Tooth Grinding)
Tooth grinding (bruxism) refers to the shifting, clenching, grinding, and gnashing of the teeth while a person is asleep. When this happens, it can cause tooth damage as well as ear aches, headaches, and tooth and gum pain. By getting a mouth guard to treat tooth grinding, the upper and lower dental ridges will be prevented from making contact with one another. This will reduce the amount of stress and pressure on the teeth.
Mouth Guards for TMJ Disorders
TMJ disorders refer to the clicking, locking, and popping of the jaw due to problems with the jaw joint. Bruxism is one of the common causes of TMJ disorders. (Stress is also a leading cause and contributing factor to TMJ disorders.) By having a mouth guard in place, the amount of stress on your jaw joint will be significantly reduced, assisting in the treatment of your TMJ disorder.
Part of a More Involved Treatment Process for Bruxism and TMJ
Regarding bruxism and TMJ disorders, the use of a mouth guard will be part of a more involved treatment process to address these issues. Other treatments, such as stress management techniques and orthodontic care, are good options for treating these matters. A full treatment plan can be discussed and devised during the consultation process.
Learn More About Your Options for Advanced Dental Care
For more information about mouth guards as well as your many other options for maintaining a great and healthy smile, be sure to contact our cosmetic and restorative dental care center today. The entire team here at Dr. Burton Gooch Family & Cosmetic Dentistry looks forward to your visit and helping you achieve all of your dental care goals.
Related to This